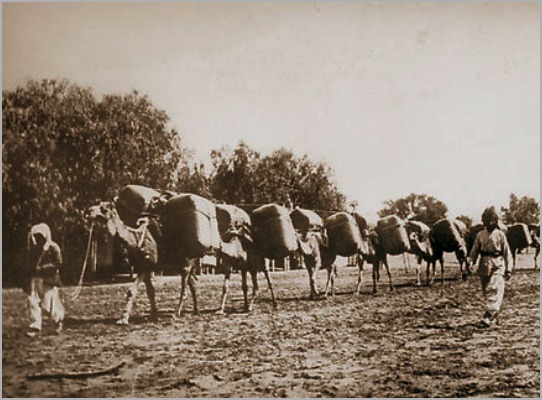 Well recorded in Australian History...
Known in Australia as 'Afghans', the cameleers came mainly from the arid hills and plains of Baluchistan, Afghanistan and the north-west of British India (today's Pakistan).
"The first expedition to use a camel was the 1846 Horrocks expedition. 'Harry', as the camel was named by the party, proved the worth of using camels in expeditions. In 1846 a Melbourne newspaper reported that the camels could carry:
from seven to eight hundred pounds weight ... they last out several generations of mules ... the price paid for them does not exceed one half of that paid for mules ... and it is proved that these 'ships of the deserts' of Arabia are equally adaptable to our climate.
By the late 1850s it was clear that camels provided the most efficient means of exploring inland Australia and transporting goods across it."
In 1860 organisers of the Burke and Wills Expedition brought 24 camels and their handlers from Peshawar and Karachi. Five years later, South Australian pastoralists Thomas Elder and Samuel Stuckey imported 124 camels and 31 cameleers on a three-year contract to cart wool and supplies.
During the early 1870s these pioneering cameleers played a vital role in exploration and helped construct the Overland Telegraph Line.
They carried food and supplies to the surveying and construction teams working on the Overland Telegraph, which ran through the heart of the continent between Adelaide and Darwin. Once the project was completed, they continued to carry supplies and mail to the settlements and townships which sprang up along the line.
They also operated supply and equipment trains during the development of the rail link between Port Augusta and Alice Springs, which became known as the Afghan Express, and later the Ghan. The Ghan's emblem is an Afghan on a camel in recognition of their efforts in opening up the inhospitable interior to the rest of Australia.
Read more here