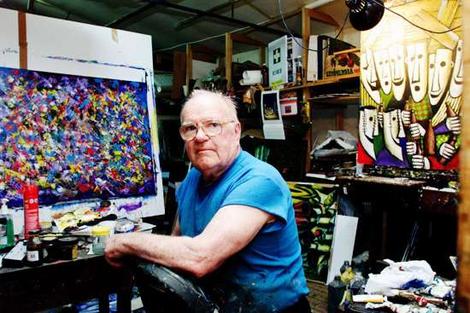 Pro Hart's sometimes controversial art are typically painted with oil or acrylic, using paint brushes and sponges. They depict rural town life, topical commentary, and religious subjects.
His illustrations for the collection of Henry Lawson's poems show keen powers of character observation combined with an obvious wit. Hart was also a sculptor, working with welded steel, bronze and ceramics.
Pro Hart was known for his novel techniques including:
Cannon painting
Balloon painting
Using his own DNA as a mark of authenticity in his paintings.
Hart was often dismissed by the art establishment as populist and derivative, and not good enough for serious critical attention. Hart considered his critics to be a part of the "art mafia" and noted that he achieved his success without any help from the arts establishment. This is why Pro is often referred to as the people's painter".
Pro Harts nickname Pro - short for "Professor" or 'know it all - was given to him when he was working in the mines. Pro's real name was Kevin Charles Hart
Pro passed away 28 March 2006