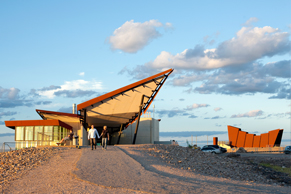 Holiday Accommodation Broken Hill
Broken Hill Emaroo Cottages — self-contained charm and comfort
If you're looking for self-contained holiday accommodation in Broken Hill, look no further than Emaroo Cottages. You have 2 bedroom and 3 bedroom cottages to choose from, ideally located in central Broken Hill, so you're a short walk from just about everything.
Lovingly restored miners cottages
These 4 miners cottages date from last century. They very cleverly combine the best of character and charm from the good old days with all the mod cons you need to be very comfortable during your holiday in Broken Hill.
4.5 star rated comfort
Emaroo miners cottages have been painstakingly restored by owners, Cathy and Rick, who pride themselves on creating a real home away from home for their guests. You'll find lots of little extra touches that add so much charm — with such a lovely cosy and homey atmosphere you'll be settling in, in no time at all. Just move in and relax!
Which Emaroo Cottage is right for you?
Will you choose Emaroo Williams, Emaroo Oxide, Tramway Terrace or Emaroo Argent with its big backyard? Whether you're booking Broken Hill accommodation for your family, for work, for your group of friends or just for the two of you, one of the Emaroo Cottages will be just perfect for your stay. And yes, you can even bring man's best friend on holiday!
Pet friendly accommodation
We know how much people love their pets and if you love yours too much to leave at home, you'll love the fact that at Emaroo Cottages, we'll welcome you and your pet, too.
Self-contained with fully equipped kitchens
Having your own self-contained accommodation in Broken Hill means you'll be able to prepare your own meals, whenever you feel like it, in the fully-appointed kitchen. You can then sit around the dining table after a lovely meal and plan your next outing – because there's lots to see and do in New South Wales' 'Silver City' of Broken Hill.
Experience the best of the outback
Whether you're holidaying in Broken Hill for just a couple of days or longer, you're guaranteed to find something to please everyone in your group, young or old. There are mine tours, walking tours, museums and of course the famous art galleries, a classic 1950s milk bar and more.
Handy location in the centre of Broken Hill
Because Emaroo Cottages are so centrally located, you'll find lots to do just a short walk away. And whenever you need a break from your sightseeing and want to quench your thirst, you'll find one of Broken Hill's 26 pubs just up the road or round the corner. Luckily, they're also an easy walking distance back home to Emaroo Cottages…