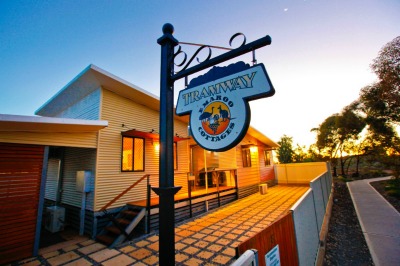 Travelling to Broken Hill and enjoying all it has to offer is definitely enhanced by staying in our Emaroo Tramway Cottage. It looks like a very modern house you'd find at a beach location.
It features 2 bedrooms with queen size beds. The feedback we've have from previous guests is they have had a wonderful nights sleep due to the comfortable matresses and quality linen.

Of course we have thought of your beloved pet and there is a fully enclosed backyard for them to play and relax in. Talking about relaxing, there is a foot spa provided for guests to soak in after a busy day of sightseeing on foot!

Emaroo Tramway cottage is situated close to the Broken Hill Centro Plaza which makes for convenient shopping.
Having access to a laundry and dryer at our Emaroo Tramway Cottage makes life so much easier and particularly if you have a family, there is always washing to do!
The kitchen has everything you need to prepare a meal inhouse and a beautiful wooden dining table to sit down to.
There is a large LCD TV with surround sound, CD and DVD which will be welcomed when wanting to just chill out whilst on holidays in Brokenhill.

We hope you enjoy your stay in our Emaroo Tramway cottage, please make sure you pass on to family and friends your recommendation of our Cottage accommodation in Broken Hill