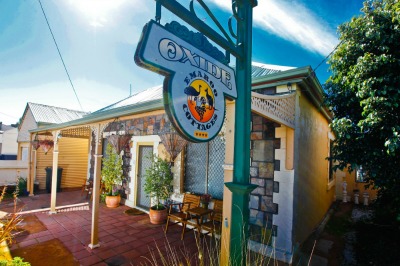 Rick and I were very busy working on refurbishing our Emaroo Oxide Cottage in Broken Hill. We are thrilled with how they have turned out. No longer are the bedrooms pink and blue but now tones of red and green.
It's one of the reasons I love what I do, getting the chance to use my interior design skills. Interior Design is something I have never received a qualification in. I have always enjoyed creating a beautiful space for our guests to spend time in. It's always wonderful to receive feedback on how delightful people find our deluxe Emaroo cottages in Broken Hill.
I had fun choosing the artwork for the rooms and particularly the emu. The emu is an iconic native Australian bird and you can get to see them in the outback.
The red leather lounge has come up a treat in the lounge room and with freshly painted walls and some new curtains and blinds it's looking fantastic! The dining room has also had a make over with some new dining chairs and a glass table which also look fabulous.
We hope that you enjoy your stay in Emaroo Oxide and please make sure you pass on to family and friends your recommendation of our Emaroo Cottage in Broken Hill. Let them know that booking through our Emaroo Cottages Website will get them the best deal on deluxe accommodation in Broken Hill. http://emaroocottages.com.au/

We hope that you enjoy your stay in Emaroo Oxide and please make sure you pass on to family and friends your recommendation of our Cottage accommodation in Broken Hill