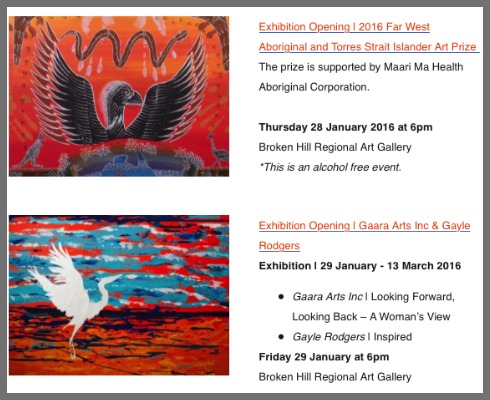 Among the many aspects that make Broken Hill what it is today, art and culture play a significant part. And when you stay at Emaroo Cottages you get to immerse youreself in it!
"Broken Hill Regional Art Gallery and West Darling Arts present the 2016 Far West Aboriginal and Torres Strait Islander Art Prize.
Now in its sixth year, the Far West Aboriginal and Torres Strait Islander Art Prize celebrates the artworks by indigenous artists in the western region. First developed by the Gallery's Indigenous Trainee Katrina Weston, the prize is open to all Aboriginal and Torres Strait islanders in the Western Region.
The aim of the prize is to provide an opportunity to showcase and celebrate art works and creativity in the Far West community by both young and mature Aboriginal and Torres Strait Islander artists. The prize will help to stimulate artists to create new work as well as providing a professional environment of a major regional art gallery for the exhibition and judging. Selected works from the 2016 FWATSIAP will be used in the West Darling Arts Aboriginal Artists Collective Touring Exhibition throughout 2016."
Only adding value to this wonderfaul experience is the Gara Arts Inc "Looking Forward, Looking Back - A Woman's View" exhibition inspired by Gale Rodgers
See more here at the Broken Hill Regional Art Gallery