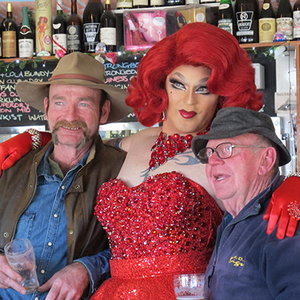 Broken Heel Festival Broken Hill
The Broken Heel Festival Broken Hill Sept 9,10, 11 celebrates 22 years since the release of the fabulous 'Priscilla Queen of the Desert'
Priscilla Queen of the Desert
This Australian classic movie was written and directed by Stephan Elliott. The story followed three unlikely outback tourists - two drag queens (Hugo Weaving and Guy Pearce and a transgender woman, (Terence Stamp) travelling through the outback on their bus "Priscilla". Along their journey they encountered the conservative outback communities, but in true movie style, won them over with their enthusiasm for life.
The film received worldwide acclaim in bringing Australian cinema to worldwide attention and also for its positive portrayal of LGBT individuals, helping to introduce LGBT themes to a mainstream audience.
The Broken Heel Festival
The Broken Heel Festival promises to be the biggest party broken HIll has seen for years.
Broken Heel Festival Venue
The Palace Hotel
at 227 Argent St, Broken Hill is just down the road from Emaroo Argent. Our other cottages are all within walking distance, or a 2 minute taxi ride to save you trying to walk on those stilettos
Broken Heel Events
Frock on or Frock off Party
Friday evening to the wee small hours at the Palace Hotel
Drag Parade and Games
Strut your stuff in the Town Square & on Argent St
Saturday Shindig
Back at The Palace Hotel with entertainment, entertainment & more entertainment!
Silverton Day Out
Off to nearby Silverton for a Sunday Splendour
For more details on this fabulous event visit the offical website: www.bhfestival.com
Accommodation in Broken Hill
Call Cathy now on
0418 862 260
to make sure you dont miss out on booking your accommodation for the Broken Heel Festival