Emaroo Cottages are four self contained Miners Cottages available for short term rental in Broken Hill. Offering both 2 or 3 bedroom accommodation options, Emaroo Cottages suit holiday makers, professionals and others on short term trips to Broken Hill or folks journeying through who prefer comfortable, roomy self-contained accommodation for themselves, their family and even their dog.
Read more about the Cottages here
The People Behind Emaroo Cottages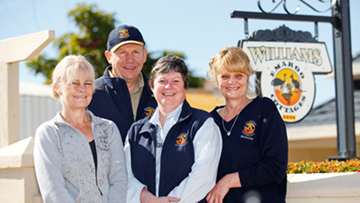 Rick and Cathy Edmonds are passionate about making their properties the best. Emaroo Cottages have won numerous awards for deluxe accommodation and are in the NSW Hall of Fame.
Cathy and Rick's award winning The Frames luxury accommodation in South Australia's Riverland is a great example of that!
Jan is the Broken Hill Cottages Manager and is also passionate about her role. Jan will ensure your stay is comfortable for the entire family.
4 Star Ratings
The attention to detail in the Emaroo Cottages has been acknowledged with a 4 star rating for each cottage. Its not just an award though, the attention to detail it represents ensures your stay in any of our cottages will be enjoyable, memorable and of course comfortable. Just like a home away from home should be!
Contact Us
If you are considering staying in our cottages then call Cathy and discuss your requirements:
Telephone: (08) 8595 7217
Mobile: 0418 862 260
Make sure you book direct and save
Location Map: